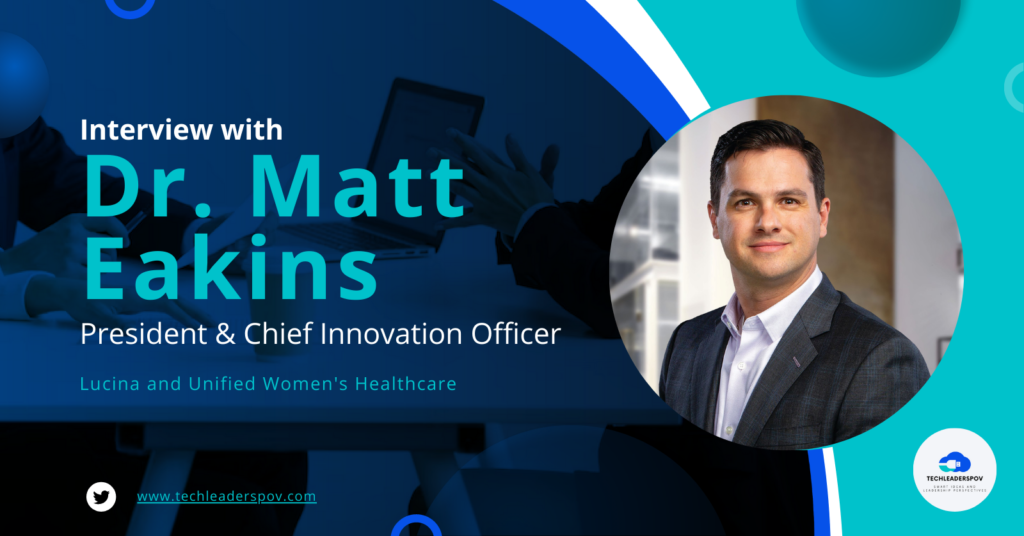 As part of our Executive Spotlight Interview Series, TechLeadersPOV spoke with Dr. Matt Eakins, President of Lucina and Chief Innovation Officer at Unified Women's Healthcare. Dr. Eakins is passionate about ensuring all women and their babies receive the best healthcare in the world. Dr. Eakins thrives on building technology that benefits patients beyond a personal clinical practice. Since joining Unified in 2015 and then Lucina, he has partnered with providers and payors to deliver on that "true north promise" that focuses on more than two million moms and babies.
What was behind your desire to start your journey?
Lucina is a business division of Unified Women's Healthcare (UWH). I initially worked at Unified Women's Healthcare for five years and focused on the vision that all women should have the best healthcare in the world. We were doing exceptional work advancing the transformation of women's healthcare on behalf of the doctors who are Unified medical affiliates and the patients that they serve. But there is an ongoing maternal healthcare crisis in this country where the patients who are suffering the most fall under Medicaid and many of our doctors couldn't reach them through their practices. So, the idea of Lucina, and the potential to reach far beyond the scope of our practice walls, was exceptionally appealing. And it continues to fulfill that mission that all women should have the best healthcare in the world.
Can you share the most interesting story that happened to you since you began your career?
I'm a trained physician and really enjoyed the science and the work but had a passion for supporting patients beyond the scope of my individual practice where I could make a greater impact in healthcare. This led me down a path to learn the business side of medicine to start leading companies. My first post was at McKinsey and Company, but I eventually became the Chief Operating Officer for Unified. This allowed me to support physicians and the patients they care for in an increasingly complex and challenging healthcare environment. It also gave me the opportunity to reinvent and relearn a new part of the business, which is how technology can be an empowering agent for patients and the doctors who support them. This is what led me to Lucina at a perfect time when artificial intelligence and machine learning have really come into their own to fulfill the promise of tech. That is, we can have better outcomes for patients, while not asking physicians or their patients to do anything differently.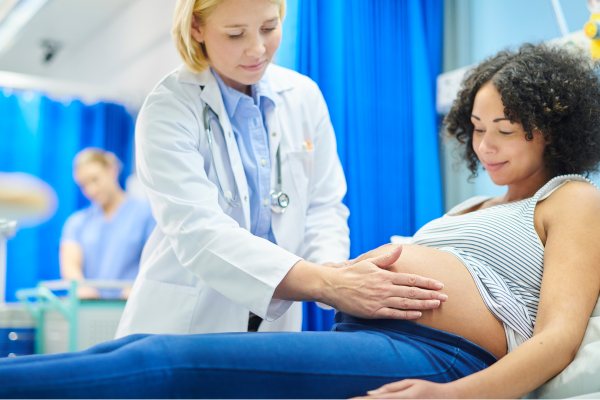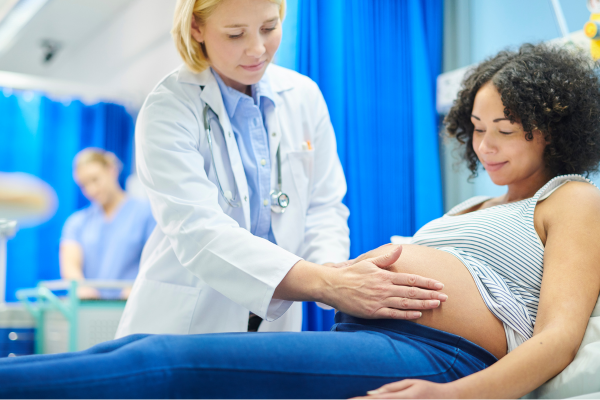 Can you share a story about a business issue you had to handle and what leadership lesson you learned from that experience?
Initially, we had a stronger position about how we think payors and care managers should be engaging with moms to improve care. What we learned was that our payor partners were not ready for our comprehensive technology and strategy right out of the gate. So we've had to meet our customers where they're at, and then evolve with them to achieve the outcomes that are possible.
Do you have any words of leadership advice for others about building their business?
Maintain flexibility and listen to the pulse of the industry, as things are evolving, as your customers are giving you feedback, and as you're participating in these conferences or industry events. You should appreciate what's going on around you, and the winds of that can shape your business. I think one of the most powerful things that I can give anybody for advice is to continue to bring a positive attitude and optimism to the work. My tagline is always 'living the dream,' even when things are challenging, you need to have a vision of how you can successfully solve it or overcome it in a positive way.
What impact are you making, and how you are disrupting or transforming your industry?
We are applying artificial intelligence to address the maternal health crisis in this country and support those we call 'invisible moms.' They are the ones that are forgotten or lost due to our technology systems today. I believe that we have just scratched the surface and perhaps, are at a really dramatic tipping point, for the evolution and application of AI in healthcare. With the advances in generative AI that we see today and the applications that might come to support providers and the patients that they care for, this is a revolutionary moment in time for our industry.
We can identify 98% of at-risk moms before delivery and 70% during the first trimester. Since I joined Unified Women's Healthcare and Lucina, we've delivered a true change promise for more than two million moms and babies.
How has technology impacted your business or team?
Not only is our business built around technology and the application in a very specific vertical for women's health, but it has also allowed us to build a culture and team without restrictions on geography, a place, or a person. We've built a national, virtual-first team of the best and the brightest. It has allowed us to be successful while building a great culture where we support each other, and have an incredible, positive impact on women's healthcare.
What are your "3 takeaways or tips" you can share with our readers about your solution or point of view on building a business or dealing with a changing market?
I like to use the metaphor of sailing for these tips. The first is to always have a true north — know what you're solving, know your mission, and use that as the compass to guide you. Use 'deliberate calm' when there are moments of stress or times of turmoil. Take a breath to consider the best path forward and consider how you can use your team to help. Use that deliberate calm to be the keel that steadies the ship. Finally, use that positive perspective that helps fill the sails for the entire team to move you in the right direction.
Connect with Dr. Matt Eakins on LinkedIn