As part of our Executive Spotlight Series, TechLeadersPOV spoke with Jeff Lerner, founder and CEO of ENTRE, the fastest-growing online education platform in the world that is teaching more than 200,000 current and aspiring entrepreneurs how to start and build their own businesses. From humble beginnings as a jazz pianist with half a million in debt to becoming a serial entrepreneur building multiple businesses, Lerner landed on the Inc. 5000 multiple times.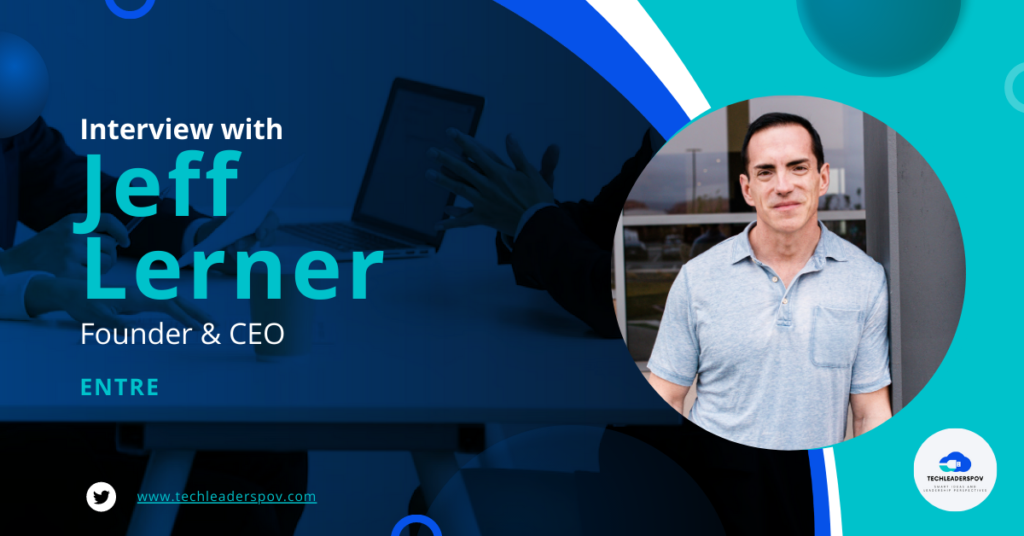 What brought you to your business?
My career actually began as a jazz pianist and many of the people I performed for were millionaires and billionaires enjoying their days and not at a traditional 9-to-5 office. If they could do it, I knew there had to be a way I could do it. So, I found a mentor who taught me the ins and outs of building online businesses. From there, I built multiple businesses to over 8 figures and my latest venture, ENTRE, is now my second to land in the Inc 5000. We have become the leading online school for both current and aspiring entrepreneurs. It is my mission to help others achieve the same success I did.
Can you share the most interesting story that happened to you since you began your career?
I wrote a musical in college, and it got accepted to a theater festival in Minneapolis. A couple of weeks before the festival one of the lead male actors dropped out and I had to fill in, which meant learning to act and dance on short notice. It was awkward and terrifying at first but ultimately went well and a big arts patron ended up seeing the show and loving it. He was so impressed with my "the show must go on" attitude he ended up backing me on multiple early business ventures unrelated to music or theater. You never know where your path will take you.
Share a story about a mistake you made or a business issue you had to handle. What leadership lesson have you learned from that experience?
Becoming a restaurant franchise owner was my biggest mistake. That venture left me $495,000 in debt. The silver lining was it made me rethink my entrepreneurial process. I didn't have the proper skills or tools to launch and scale a successful business. The only thing fueling my efforts was a deep desire never to work a 9-5. If you want to achieve success as an entrepreneur there is much more to learn to successfully run and scale a business. So I started learning. Reading everything I could. Learning from others' mistakes. That's what then led me to form multiple 8-figure businesses thereafter.
Do you have any words of leadership advice for others about building their business?
You won't achieve professional success without personal success. You need to be giving your life balance because overachieving in only one area can lead to burnout and that leads to mistakes, which can lead to failures. Always make sure you're accounting for what I call the 3 Ps: physical, personal, and professional development. The more you grow as a person, the more you grow professionally.
Can you describe the impact technology is making on entrepreneurs?
The internet alone has completely changed what it takes to become an entrepreneur. Anyone can do it. Traditional schooling can rarely supply someone with the skills needed to become an entrepreneur. Internet education moves much faster, which has leveled the playing field allowing people to save hundreds of thousands of dollars to become their own version of success. Our team was built on technology. Every one of our 130 employees works remotely around the globe. Without technology, we and our students would not be here doing what we love each day.
What are your "3 takeaways or tips" you can share with our readers about your solution or point of view on building a business or dealing with a changing market?
Focus on the work and upskilling. You can't get ahead by schmoozing. Assume there are 5 people waiting in the wings to replace you or your business at all times.
Separate your feelings from your behaviors. I learned a long time ago that how I feel will drive from what I do, and that if I wait to "feel like" doing then I won't do anything at all.
Cash flow reigns supreme. We have a major inflationary environment ahead of us. The result is that risk can't get priced into lending so banks will eventually have to tighten up altogether. In either case, the businesses that have a healthy profit margin and lean operations will be the ones to survive.
Connect with Jeff Lerner on social media: