As part of our Executive Spotlight Series, TechLeadersPOV spoke with Shannon Goggin, the CEO and co-founder of Noyo about the role technology plays with employee benefits. Before starting Noyo, Goggin was a product manager, building benefits software that showed off the powerful role technology can play in improving people's experience with their benefits.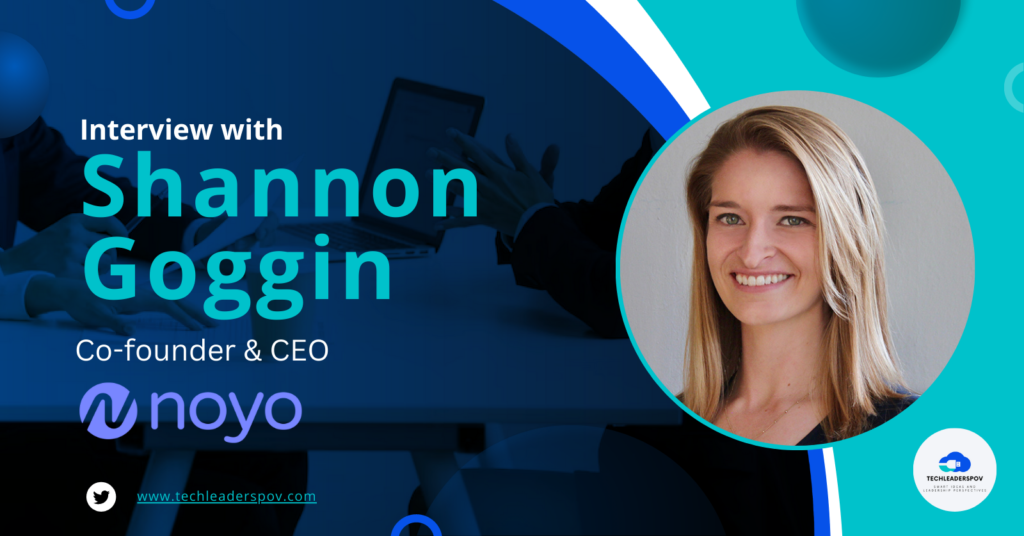 Can you tell us a story about what brought you to your business?
I started my journey to Noyo as a product manager at Zenefits, the HR tech startup. I joined right after the product caught fire in the market and the company was entering a period of hypergrowth. During my time there, I got to work closely with the company's incredible founding team and observe up close what it takes to bring new products to life while building a company.
After Zenefits, I was eager to experience an earlier-stage startup. But as I refined product ideas I'd enjoy working on, I felt pulled towards starting something myself. Ultimately, I couldn't ignore a persistent need I saw in the benefits space — the industry's lack of trusted, structured data. I had the domain expertise, the relationships, and the founding team to pursue it, and the timing was right. So, we took the plunge.
Can you share the most interesting story that happened to you since you began your career?
One of the most rewarding things about founding Noyo has been to bear witness to how quickly (and at times, how slowly) the benefits industry is changing. This is a highly complex space, made up of an interconnected ecosystem of benefits software platforms, insurance carriers, brokers, and employers. Every company is on its own modernization journey, so the tipping point for the adoption of new technology and systems is very different from other change-averse industries, such as finance. We have a strong vision of where we believe the ecosystem will go and we're building the data infrastructure to support it.
For example, we've already accomplished things that just a few years ago, smart people from our industry told me were impossible. We've barely scratched the surface of all Noyo can do, and that's a really exciting place to be — particularly when I reflect on how far we've come in just a few short years.
Can you share a story about a business issue you had to handle and what you learned from that experience?
When we started Noyo, I was not well connected in the venture capital world. But I was fortunate to have friends who were experienced and gracious enough to help coach me through the process. It took us a few months before we were ready to raise, but after we crystallized our product and vision, we were able to raise a seed round pretty quickly. Since then, we've also successfully raised our Series A and B. None of that would have been possible if I didn't know when to ask for help.
This experience taught me the value of knowing my own strengths and weaknesses. Nobody can know all the answers all the time, so the sooner you get comfortable asking for help when appropriate, the easier it will be to direct your energy where it will yield the best results. For example, I could have spun my wheels trying to break into the venture world. But I achieved my goals way faster by focusing on refining Noyo's story and initial product offering while leaning on other professionals in my network to mentor and guide me on fundraising.
Do you have any words of leadership advice for others about building their business?
Know when to hand off areas of the business — but learn them inside-out before you do. There are so many great resources out there with best practices and tactical advice from others who have gone through it before. That being said, it truly is a force multiplier to have someone who is deeply aligned with your cultural values and brings a wealth of experience to their role. Be sure to hire people you can see yourself learning from as you work together.
Can you describe the impact technology is making on your industry?
Like many other industries right now, the benefits industry is being asked to do more with less. Technology like the innovations we build at Noyo is enabling this shift from human-heavy workflows to leaner, more automated processes. What this means more broadly is transformation at the infrastructure level — with key benefits-related activities already showing drastic improvements in time-to-completion, enhanced data accuracy, exciting innovations, and more.
As part of the new generation of benefits technology helping to solve the industry's toughest challenges, Noyo is boldly reimagining a different future where we can co-create solutions that deliver better outcomes. For example, helping people better understand their benefits and using them, by making important information easily available between stakeholders. Our mission is to power modern benefits that are easy to use, easy to understand, and keep up with people's evolving needs. We're making this possible through powerful automation, clean trusted benefits data, and more.
How has technology impacted your business or team?
As a SaaS platform serving benefits software and insurance carriers with modern data infrastructure, technology is why we exist! The rise of APIs in the benefits industry in particular has been a necessary catalyst for change across all corners. At Noyo, we're focused on a very specific slice of the ecosystem — making enrollment and eligibility data easily available and using it to solve a broad set of needs — and growing our connected network of partners across the benefits ecosystem.
What are your "3 takeaways or tips" you can share with our readers about today's employee benefits?
Benefits have become even more important to workers and their families in the face of economic uncertainty. By helping our partners automate key benefits workflows, we're taking pressure off operations teams so they can focus on improving the member experience and reduce expenditure in areas where it matters most.

Empowering people to understand their benefits helps them make better decisions. Noyo makes it possible for accurate, trusted, and usable benefits data to be in the right place at the right time. This is new for much of the industry, and we're excited to be at the forefront of pioneering how modern data management can really make an impact on people's health and wellness.

The power of technology can profoundly change the way an entire industry operates over a relatively short amount of time. Realizing a modern, frictionless benefits model will revolutionize the way people experience their benefits daily. Noyo provides the underlying infrastructure insurance carriers and benefits software platforms can build on to make this vision a reality. We're just getting started, and I'm excited for the world to see where we go next.
Connect with Shannon Goggin on social media: