In the face of a rapidly changing global environment, the intersection of climate change and real estate has become a pivotal issue. The real estate industry is a significant contributor to global greenhouse gas emissions, responsible for approximately 40% of emissions worldwide. As we confront the impact of these environmental changes, the real estate industry finds itself at the forefront of this ongoing battle against climate change.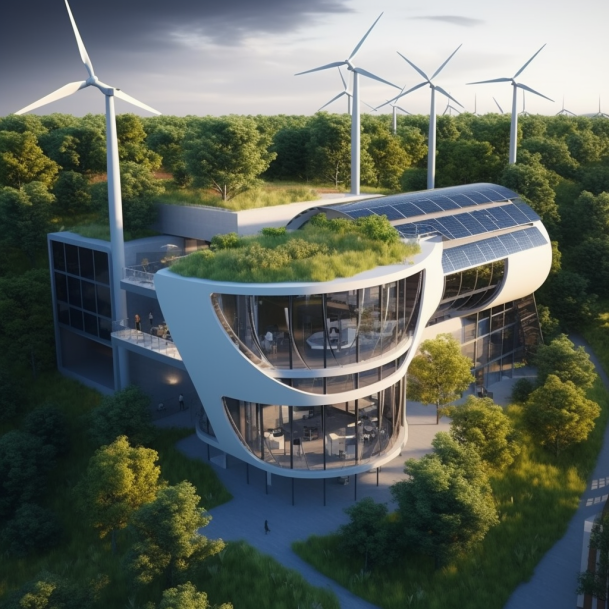 The Intersection of Climate Change and Real Estate
It is crucial to understand the climate risks inherent to the real estate industry, which can be broadly categorized into two groups: physical and transition risks. Physical risks are primarily linked to the increasing severity and frequency of extreme weather events such as hurricanes, floods, and wildfires. On the other hand, transition risks include factors like declining market attractiveness, tighter regulations, and growing public pressure for greener solutions.
The Need for Climate Consciousness in Real Estate Decision-Making
To navigate these challenges and protect their assets, real estate investors and professionals need to incorporate climate risks into their strategic decision-making process. The sector's unique challenges when it comes to reducing emissions and dealing with the impacts of extreme weather events emphasize the importance of a climate-conscious approach.
Moreover, with the real estate sector being critical to global efforts to meet the Paris Climate Agreement's target of limiting average temperature rise to well below 2°C, there's a pressing need for substantial investment in decarbonization efforts across existing infrastructure and new-build regulations.
The Shift to a Net-Zero Transition
In recent years, a significant number of real estate companies have committed to a net-zero transition. Integrating these pledges with asset acquisition, development, management, refurbishment, and disposal requires firms to undergo substantial cultural and operational changes. Moreover, it is important to note the business case for adaptation to climate change, with increasing insurance costs, declining property values, and green building requirements being key motivators.
Climate Strategies in Focus
The Covid-19 pandemic and the subsequent shift towards remote and hybrid working models have significantly impacted the real estate sector. These changes could potentially accelerate some low-hanging decarbonization efforts, but these won't suffice to finance the wholesale changes the sector needs to make. In what remains a challenging environment, the capital investments required for climate adaptation and mitigation can be a difficult proposition.
Regulatory Pressure and the Cost of Climate Risk Exposures
Increasingly stringent regulatory requirements cannot be ignored for much longer. Additionally, the potential cost of failing to properly account for climate risk exposures underscores the importance of a proactive climate strategy. Taking the lead on climate strategy can be highly beneficial, especially given the potential rewards for early adopters.
Data and Analytics: Key to Effective Climate Strategy
Quality data and analytics are integral to creating an effective real estate climate change strategy. Despite the existing barriers to executing these strategies, the emergence of common frameworks and industry-specific tools from startups like Visitt are facilitating better data collection and strategic thinking.
Leveraging Common Tools and Frameworks
Several tools and frameworks, such as the Task Force on Climate-related Financial Disclosures (TCFD) recommendations, the GRESB real estate assessment resiliency module, the Science Based Targets Initiative (SBTi), and the Carbon Risk Real Estate Monitor (CRREM) have become essential in identifying risks and crafting decarbonization pathways. Advancements in technology, especially machine learning algorithms, are playing a pivotal role in improving climate-related strategies in the real estate sector.
Real Estate's Role in a Low-Carbon Economy
Building climate competency throughout the real estate lifecycle is a necessity. There's an increasing need for transparency and collaboration in the industry to achieve climate goals. Transitioning to a low-carbon economy offers potential benefits to the real estate sector, including the possibility of new markets, increased resilience, and long-term sustainability.
The importance of addressing climate change in the real estate industry cannot be overstated. With the potential to play a significant role in mitigating climate change, the real estate industry finds itself in a position of both responsibility and opportunity. Yet, the urgency of accelerating actions and strategies in response to climate change is clear – the industry must adapt, evolve and innovate to thrive in the face of this global challenge.