As part of our Executive Spotlight Series, TechLeadersPOV spoke with Patty Moore, the Vice President of Software Engineering at Western Governors University (WGU). With an illustrious career spanning 25 years at The Walt Disney Company before transitioning to WGU, Patty has been instrumental in using her technical and leadership capabilities to revolutionize the student experience at WGU through innovative software solutions and machine learning initiatives. A staunch believer in WGU's mission to improve lives through education, Patty is breaking away from traditional educational models to shape the future of online learning.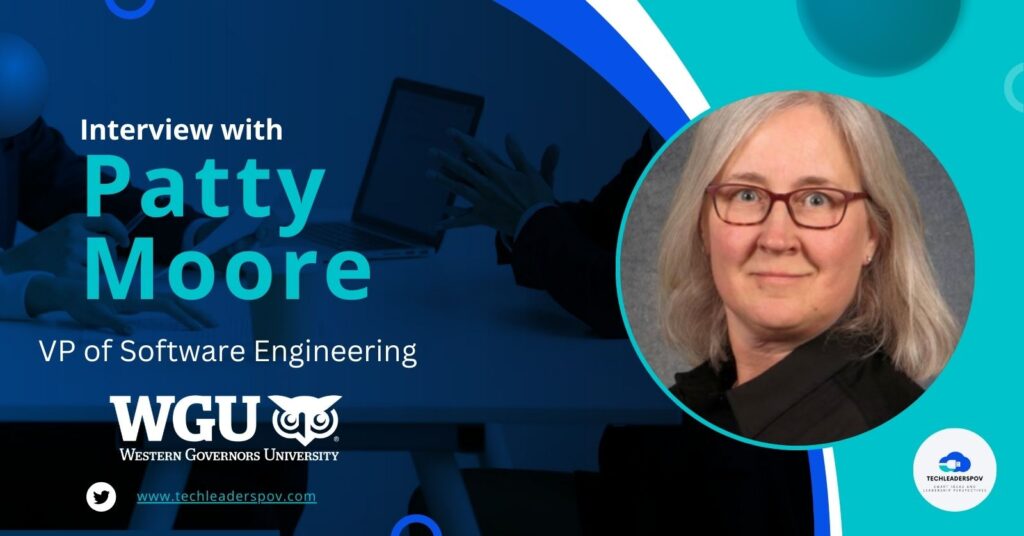 Having transitioned from a long and successful career in the travel and hospitality industry, what sparked your interest in the field of higher education?
After spending 25 years in the travel industry, I felt an urge for a change and found myself drawn to organizations with a strong mission. I've always wanted to significantly contribute to the future of society and individuals, which led me to higher education. This industry allowed me to continually learn and connect with an organization providing pathways to opportunity through education.
Since you began your tenure at WGU, what is one remarkable story or significant evolution that stands out to you?
One of the highlights of my career has been building a credible, predictable, and reliable team to deliver services to our staff and students. In collaboration with key partners, my team delivered a new system platform encompassing marketing, e-commerce, learning resources, assessments, and advanced analytics that aid in improving student outcomes. I have seen career growth, the broadening of my leadership team, and the innovative solutions we have brought to market. This process has allowed me to enjoy the vulnerability and growth in learning a new industry and the opportunities of navigating a new 'S Curve.'
As a leader, you must have encountered challenges or made mistakes. Could you share one such instance and the lesson you learned from it?
In one instance, I failed to deliver a new product and retire legacy infrastructure. I learned from this experience the importance of strong project management, especially scope and stakeholder management. I realized that setting the right expectations and delivering in valuable increments is crucial. I also learned to be courageous and voice my concerns even when new to an industry or organization.
Navigating a rapidly changing industry and economy requires strategy and foresight. Do you have any leadership advice for others about building their businesses or personal development?
Understanding your customer is essential. Stop the things that aren't adding value and wasting resources. Secondly, push the boundaries but don't take unrealistic risks. Prioritize customer service, invest in product training, and leverage data for decision-making.
In your perspective, what is the impact of technology on higher education, and how is it transforming the student experience at WGU?
The COVID-19 pandemic highlighted the crucial role of technology in learning and education. It's essential to provide personalization, readiness, and reliability. Students want to access content anytime, anywhere, primarily through mobile and self-service options. At Western Governors University, we're disrupting higher education by being the most student-centric university and using machine learning to assist with student outcomes at scale. We offer a community of care, mentors, course instructors, and round-the-clock access to help our students achieve their dreams.
Given the changing landscape of higher education and technology's role in it, could you share your "3 key takeaways or tips" for our readers?
Continual Innovation: Even if you're successful today, that's not guaranteed for tomorrow. Inspire innovation and involve your employees to embrace new offerings, improve service, and gather data to validate your position.
Empower Your Staff: No matter how good your product is, your customers will know the difference if your staff isn't motivated and invested in the organization's mission.
Prioritize Quality: Customers will find another one if your product isn't reliable and easy to interact with. Quality should be built into the product from the start, and it's not the first place you cut costs.
Lastly, stay curious. Learn, listen, and engage in the market, customer, and industry.